Sports cars are the pinnacle of America's driving spirit. Fast, fun, and good-looking, sports cars like the 2017 Ford Mustang help us feel young at heart and give us a sense driving freedom. Here at our Ford dealership near Cullman, AL, we have an inventory packed full of these freedom giving cars and would love to give you a chance to take some for a test drive so you can feel just how great that freedom is. Learn more about this fantastic new car at All American Ford!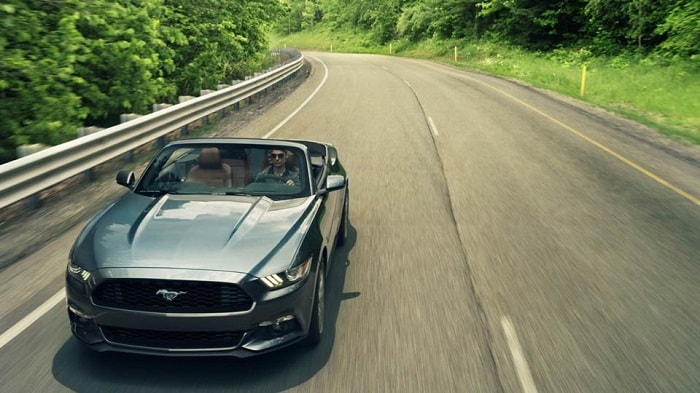 2017 Ford Mustang Trim Models and Options
When shopping for a Ford Mustang, you might find yourself with a lot of choices to make. The 2017 Ford Mustang comes in ten different trim models, from a base fastback or convertible 3.7-liter six-cylinder setup that produces 300 horsepower to a fastback or convertible Mustang GT with a 5.0-liter eight-cylinder engine setup that produces 435 horsepower. There is even an EcoBoost® four-cylinder engine setup that comes in both convertible and fastback configurations. This engine setup produces 310 horsepower and gets an EPA-estimated 21/city 30/highway 24/combined mpg. And for the real sports car enthusiast, there are two race edition models: the GT350 and the GT350R - both of which use a 5.2-liter eight-cylinder engine that produces 526 horsepower.
All models come standard with a with a six-speed manual transmission but can be optioned over to a six-speed SelectShift® automatic with steering wheel paddle shifting. The only exceptions are the two race editions models that will still come standard with a six-speed manual transmission but can be optioned over to a much more race productive Tremec® six-speed automatic.
Since these vehicles are made for having fun, there's no reason to believe that any new Ford car wouldn't come with a fun and capable suspension. With exception to the race editions, the active sports car handles corners with an AdvanceTrac front suspension with Electronic Stability Control (ESC), and an independent rear suspension. You will be controlling your steering with a Selectable-Effort Power Electric Assist Steering (EPAS) system, and braking will be controlled by state-of-the-art vented four-wheel disc brakes.
The Ford Mustang Exterior Styling
Whether you choose to go with a convertible or a fastback, the Ford Mustang will not leave you disappointed with all the looks you will be getting because of its sensational styling. There are ten different deep gloss exterior colors to choose from and 14 different wheel options available. Not all options are available on each model, but each model will have their own set of choices. Every wheel option goes with the fierce stance of the sports car and integrates smoothly with the sharp bodylines. The front fascia that's engineered to suck cool air into the engine compartment is designed perfectly around the headlights and fog lights and the smooth looking rear bumper fascia gives a home to the nestled away rear dual exhaust and eye-popping taillights. 
A Sports Car Interior
The interior of the 2017 Ford Mustang is the same as the exterior - filled with great engineering and top technology. From the Ford SYNC® 3 media system to the easy to navigate cockpit and comfortable available leather-trimmed seating, this Ford Mustang does not let you forget you are sitting in a sports car. The bright easy to read gauge cluster puts all of the driver's vital running system stats right at eye-level, and the Accelerometer with track apps allow you to optimize your performance and check out how your Mustang performs in high-performance situations without going to a racetrack.
So come in to see us at All American Ford, your local Ford dealership in Oneonta, AL, conveniently located near Trussville and Cullman, AL. Let us take you for a test drive in one of our Ford Mustang sports cars, we guarantee you will have fun.